Dreaming of the white sofa
BUT MY GUESTS DON'T SEEM TO KEEP RED WINE IN THEIR GLASSES.
Softcare is the right solution. When you want to buy a white sofa, because it is the only colour that fits your decoration, also purchase a bottle of Softcare Textile Protector. By protecting your white sofa you don't need to worry about the colour. The protector is easy to use: spray the product evenly on the surface of the new sofa. The liquid pearls on the treated surface without being sucked into the fabric. The protection lasts up to 3 years after a single treatment.
Yes, and then the messy guest. As you mingle around and sip on your wine it's possible to tip over a glass of wine, and this of course on the new white sofa. The usual apologies follow and… No problem. Luckily you protected the sofa with textile protector, so now is a good time to see if it really works. It might be a good idea to buy the whole textile care kit at the same time, since it's good to keep the cleaner handy when you need it the most. You might let out a couple of angry words as you look for the cleaner and the paper towels in the kitchen, but once you are back at the sofa, you notice that the wine stays like beads on the sofa surface. Use paper towels to soak up the droplets and voilà: all the drops have disappeared. In the worst case the wine has dripped down on the untreated carpet. Spray the cleaning detergent recommended by the sales person on the carpet, moisten the terry cloth that comes with the kit, wait a few minutes, and presto! The stains are gone.
While the mingling resumes, you think to yourself: the carpet must also be treated. Tomorrow I'll get more protectors from the store. The salesman might have recommended an odour control, considering your cat. I might buy it since Softcare clearly works. And I read that the products are environmentally friendly.
When the guests have gone home you log in to Softcare's website. There are a couple of interesting products, antistatic detergents and a special sponge for hair removal. Both are needed when you live with a cat. On the website you also find special detergents for wine stains and a lot of other interesting products. Try them as well!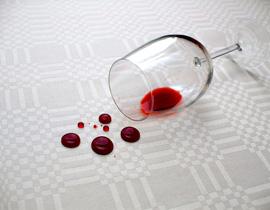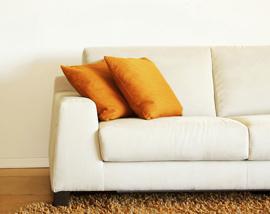 When you purchase a white sofa, remember to:
protect the sofa immediately
clean the surface if you are protecting an old sofa
treat sofa and sofa cushions with Softcare Furniture Protector
remember to protect the carpet as well
enjoy beautiful surfaces which stay clean longer!