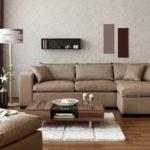 Habitare and early autumn are once again here. Autumn is the time to settle down but also good time to decorate your home. Softcare products will make your job easier. They will help to keep the furniture great looking and easy to maintain.
You will find the Softcare's products in Habitare fair 10.9.-14.9.2014 stand 6c129 in hall 6.
Have you always dreamed of a white couch, but you're afraid to buy it? Many of us do so. No need to be afraid anymore. Softcare Furniture protector has been developed to help protect all the textile and leather furnishings, carpets and other home textiles against all kinds of dirt. Even red wine will drip off, leaving no stains to the surface. The dirt is easy to clean from the surface, because the protector prevents dirt from absorbing to the fibres. Now, we have developed even odorless, waterbased protector in addition to the traditional protector. An easy way to get products suitable for couches and textile surfaces is to get Softcare CareKit, which includes furniture protector, but also the powerful Softcare textile cleaner. It removes easily even difficult dirt and stains.
Softcare has a complete series of products suitable for leather furniture. It includes protector, cleaner and leather balsam. The serie is suitable for all types of leather, even artificial leather.
We also recommend cleaning and protecting all outdoor furniture prior to winter storage. The furnishings and cushions are a lot more comfortable to take out in the spring. If you take good care of them it helps them to remain great looking and easier to care.
Softcare odour control and antistatic sprays are the same guaranteed domestic and environmentally-friendly series of Softcare.
Did you know that all Softcare's products are Key Flag products. It means that we in Soft Protector Ltd want to stress the Finnish origin of our products and, in that way, positively distinguish ourselves from our competitors. You can find more information of all our products on our new website www.softcare.fi. Or you are welcome to visit us in our stand 6c129, where our sales staff will be happy to answer all your questions. By showing your presscard you can get some samples from our stand. Welcome!
For more information and picture request:
Päivi Fogelberg
email: paivi@www.softcare.fi
mobile + 358 44 7838 152