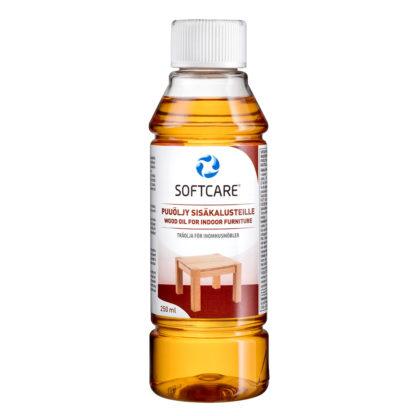 Softcare Wood oil for indoor furniture 250 ml
Softcare Wood Oil 250 ml
For indoor furniture
Softcare Wood Oil for indoor use is suitable for, for example treatment of kitchen tops and dining table surfaces. Suitable for teak, oak, mahogany and other wood types as well as heat-treated wood. Protects against dryness and dirt. Gives a beautiful, durable finish. The dry surface emits no harmful substances. Quick and easy to apply and has a very mild scent.
The treated surface should be dry and clean.
The oil is applied with a brush or cloth and then spread out evenly. We recommend that you treat the surface 2-3 times and let it dry between applications. Renew treatment when needed. The treatment can be done 2-3 times a year so that the wood does not crack.
Sufficient for approximately 10 m², depending on surface smoothness. Takes about 12 hours to dry. Note: Clean the equipment immediately in warm soapy water, because the linseed oil can start burning if, for instance, heated up in the sunshine. EAN 6416977712664.