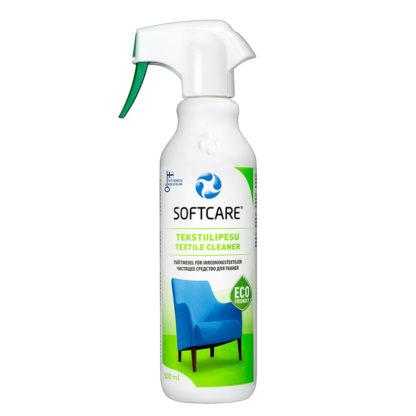 Softcare Textile Cleaner 500 ml
The gentle Softcare Textile Cleaner works on all kinds of dirt and stains, e.g. fat, oil and coffee. It is made of environmentally safe components. Suitable for all interior textiles. Can also be used for carefully cleaning textiles meant for dry cleaning. Before use, read carefully the care instructions of the textiles or make a small trial on an invisible area.
Instructions for use:  Spray onto the dirty surface and leave for a few minutes. Wipe off the surface with a clean, damp terry cloth. When you remove the stain, wipe the stain inwards so you do not spread the stain. When you remove isolated stains you can prevent water rings by blurring the line between the wet and dry area by moistening the area from seam to seam or the entire surface of the cushion. You can also pre-treat stains before normal laundry. If you are unsure of how the fabric or colour reacts in the wash, try first on a small invisible area. The wear rate can be tested by rubbing a damp, invisible area with a terry cloth. If the surface fluff, do not rub hard. Colour durability can be tested by rubbing the moistened area with a white cloth. If colour rubs off on the fabric, perform the cleaning very carefully, or leave it to a professional. If you are cleaning a fuzzy fabric, wipe the moistened nap in one direction so that the end result is even. Avoid getting the fabric too wet and let the furniture dry in a ventilated place.
Safety data sheets: download PDF
Volume: 500ml
EAN: 6416977712718