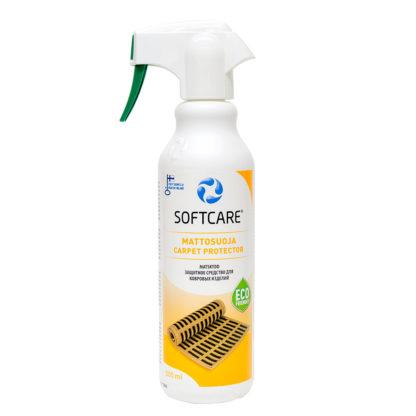 Softcare Carpet Protector 500 ml
Softcare Carpet Protector is suitable for all types of carpets from wool to silk, coconut, jute and paper yarn carpets. Can also be used on fur rugs and kilims. It is also suitable for the protection of thick textiles, e.g. rugs. Carpet protection gives the carpet a dirt-repellent surface, making cleaning easier. The dirt is easy to remove from the treated surface and permanent stains do not occur. Vacuuming is also facilitated since the dust comes off easier. The protection does not change the carpet's feel, colour or air permeability. One bottle (500ml) can protect 4-6 m2 depending on the thickness of the carpet.
Spray evenly on the dry, clean surface from a distance of about 15 cm until it is moist, not wet. First test colour durability in an invisible place and protect the surrounding surfaces while spraying. Ensure good ventilation. The protection lasts for a few years. Softcare Carpet Protector does not affect the properties of the textile. Does not contain PFOS or PFOA compounds. The product is highly flammable; do not smoke while spraying and do not spray near open fire. Do not use on faux leather or plastic.
Packaged in aerosol-free, 500 ml bottle made of recyclable plastic that can be burnt or recycled as mixed waste when bottle is empty. EAN 6416977712879.