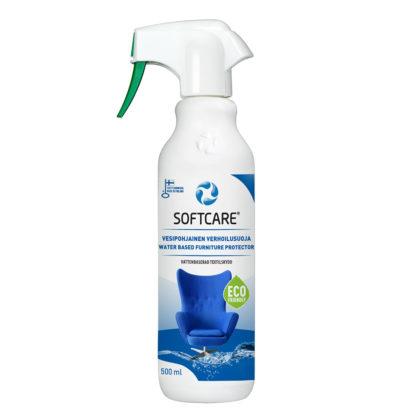 Softcare Water Based Furniture Protector 500 ml
EFFICIENT AND ECO-FRIENDLY
Softcare Water Based Textile Protector forms a highly effective molecular shield around fibres to guard against virtually all kinds of liquids, stains and soiling. Does not change the feel, colour or other properties of the fabric. Recommended for protection of all textile surfaces, but especially for bright fabrics on which dirt is clearly visible. The protection does not alter fabric appearance, air permeability or flammability. Suitable for all fabric types from thick upholstery fabrics to thin silk fabrics. Protection will last 2-3 years in normal use.
Directions for use: Spray protection in a well-ventilated area from a distance of about 15 cm. Spray evenly on dry, clean surface until the surface is damp but not wet. First test the colour durability and other properties on an invisible spot and protect the surrounding area while spraying. Let dry in a well-ventilated area for at least 24 hours. Treated fabrics are easy to clean because the stains can easily be wiped off from the fabric with a cloth. The protection prevents all kinds of stains from sticking, even oil-based stains. One bottle is sufficient for 5-7 m2, i.e. the surface of a five-seat sofa. Does not contain PFOS or PFOA compounds. Safe to use and biodegradable.
Volume: 500 ml
EAN: 6416977712848