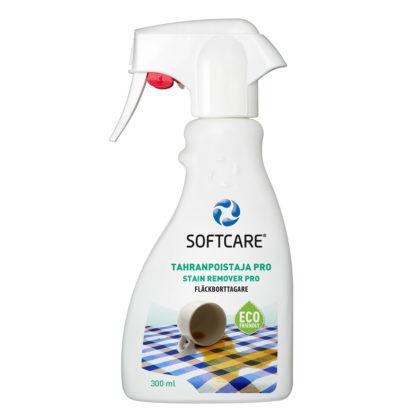 Softcare Stain Remover Pro 300 ml
Effectively removes various stains, both old and new. Suitable for all textiles. Removes oil, grease, blood, coffee, wine, grass and chocolate stains. Contains no bleach or other agents that may damage colours.
Instructions for use: Spray on stain and let react for a few minutes. Wipe off with terry cloth or other soft cloth. Repeat treatment if necessary. You can also pre-treat stains before normal laundry. If you are unsure of the fabric's wash or colour durability, try the agent first on an invisible place. The wear rate can be tested by rubbing the moistened area with a terry cloth. If the surface gets fluffy, do not rub hard. You can test the durability of the colour by rubbing the moistened area with a white cloth. If colour rubs off on cloth, use extra caution or leave cleaning to a professional. If you clean a fuzzy cloth, wipe the nap in one direction when it is still damp for an even finish.
Safety data sheets: download PDF (in Finnish)
Volume: 300ml
EAN: 6416977713166