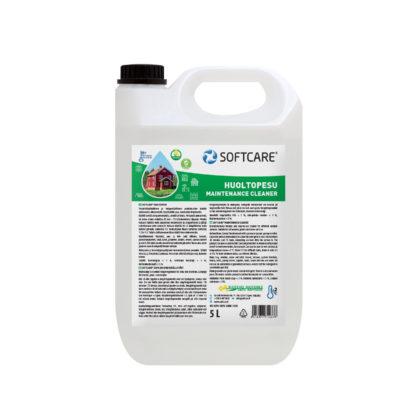 Softcare Maintenance cleaner 5 L
Environmentally friendly and easy-to-use cleaner for different outdoor surfaces. Suitable for all wooden, plastic and stone surfaces.
Instructions: Spread the detergent with a pressure sprayer, sponge or roller. Clean the surface immediately or allow the detergent to react for between 20 minutes and 72 hours, depending on how dirty the surface is. The product can also be used to offer care and protection to wooden surfaces and be left to work over winter, for example. Can also be used on wet surfaces at temperatures above +2 °C. Dilute 1:1. For difficult stains, dilute in ratio 1:2 or 1:3. For truly stubborn stains, use without dilution.
Uses: Log, wooden, stone and brick houses, terraces, garden furniture, fences, roofs, paving stones, asphalt, boats, sauna benches and walls. Do not use on aluminium or galvanised surfaces. Always test the detergent in an invisible spot first.
Biodegradable and plant-based natural detergent. Store in a dry and warm place. The water-soluble product is neither flammable nor combustible.
Contents: Plant-based soap < 5 %, Nonionic surfactants < 5 %, Sodium carbonate < 5 %.
Safety data sheets: download PDF (in Finnish)
Volume: 5 L
EAN: 6416977714378
Order: