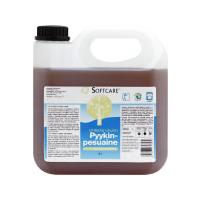 Softcare Laundry Detergent 3L
Softcare Laundry Detergent is a general laundry detergent for all kinds of laundry. Does not contain zeolite, lye, phosphates, LAS tensides, enzymes or bleach. Lightly perfumed. Softcare Laundry detergent leaves the textiles soft and therefore you don't need to use separate softeners. The odour will evaporate in 20 minutes.
Instructions for use: Works well in 30, 40, 60 ja 90 °C temperatures and also in hand wash.
Safety data sheets: download PDF
Volume: 3 L
EAN: 6416977713579