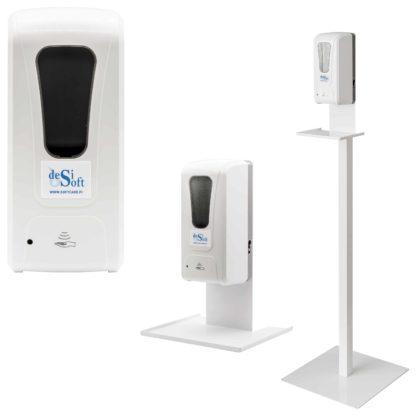 Desisoft hand sanitiser
BATTERY OPERATED HAND SANITIZER DISPENSER
An automatic battery-operated dispenser that dispenses without touching just the right amount of sanitiser. Available with a wall-mounted dispenser or stand-alone stand.
Suitable for offices, shops, restaurants, shopping malls, amusement parks, swimming pools and other spaces where a lot of people move.
Features:
Detects hands automatically
The tank can be refilled
Approximately 500 servings are sufficient from a 1-litre container
Powered by batteries.
Always the right amount of product without touching
An easy locking mechanism prevents misuse
Dispenser with a stand:
Size: 163x30x30
Sales lot: 1 pc
Product code: 714347
EAN: 6416977714347
Dispenser:
Size: 12.4x11x26
Sales lot: 1 pc
Product code: 714354
EAN: 6416977714354
Dispenser with a table stand:
Size: 37x20x30
Sales lot: 1 pc
Product code: 714361
EAN: 6416977714361
Order: