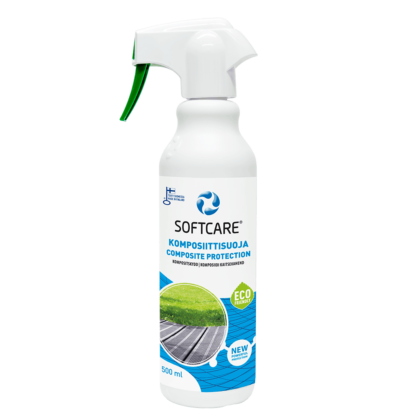 Softcare Composite Deck protection 500 ml
EFFECTIVE PROTECTION FOR COMPOSITE DECK AND PLASTIC SURFACES
Softcare The Softcare Composite Deck protection is an efficient water-based protection for composite structures and other porous plastics, such as outdoor furniture. Protected patios and furniture remain clean, easy to care, and easy to clean for a long time.
Instructions: Shake the bottle before use. Spray the protection onto a clean and dry surface, approximately 1 dl/m2. When working outdoors, ensure that the weather is dry, and leave to dry for 24 hours. Direct sunlight hastens the process. Store in a dry place, away from direct light. Do not let freeze.
Safety data sheets: download PDF (in Finnish)
Volume: 500ml
EAN: 641697715863