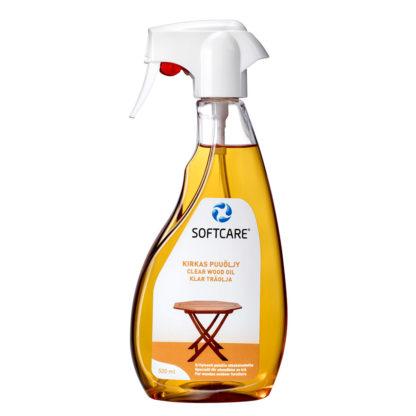 Softcare Wood Oil 500 ml
Softcare Wood Oil 500 ml spray bottle (clear)
Special oil for oiled and untreated wood.
Softcare Wood Oil protects outdoor tables, chairs, benches and wooden surfaces, floors and railings. Suitable for teak, hardwood, impregnated and untreated furniture, offering good protection against moisture and dirt. The wood oil prevents the wood from cracking and drying, which extends furniture life and gives them a beautiful, smooth surface. The wood oil is produced according to a 150-year-old English recipe and is a high quality product.
Spread oil with cloth, brush or by spraying. Let oil soak in slowly. Repeat treatment if necessary. Wash work tools with water and detergent or burn immediately after use since vapours from wood oil can catch fire if they, for example, get heated by sunlight. Container is a 500 ml PET bottle. The packaging may be burnt or disposed of with mixed waste.