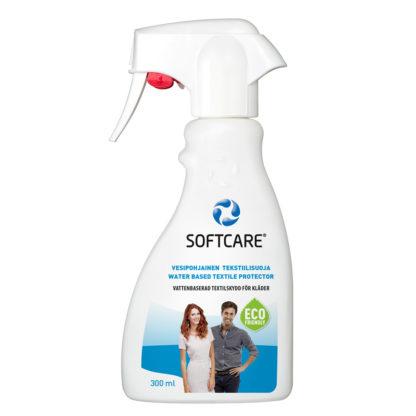 Softcare Water Based Textile Protector 300 ml
effective protection for textiles
Effective protection for all types of textiles against dirt and moisture. Softcare textile protector is suitable for all types of textiles, also breathable tex-materials. Does not change textile properties like color, touch or breathability. Renew treatment when needed. The product is safe to use and environmentally friendly. One bottle will last for 3 – 4 m2. The protection lasts several wash cycles.
Directions for use: Spray on a textile surface until evenly
moist and let dry. The protection reaches its final strength in room temperature after 24 hours. The protection will repel both water and oil-based dirt. Always remove dirt as soon as possible with Softcare® laundry detergent or stain remover.
The container of 300 ml is made of recyclable plastic that can be burnt or recycled as mixed waste.
EAN: 6416977712282