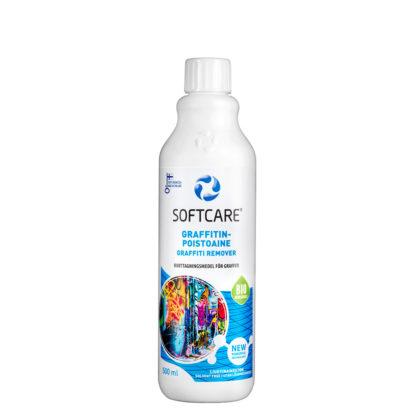 Softcare Graffiti removal 500 ml
SOLVENT-FREE GRAPHITE REMOVER
Softcare Graffiti remover is a new, solvent-free remover for graffiti. The product has been designed using a new Softcare technology, and it is efficient and environmentally friendly to use. The new Softcare technology is based on a unique invention that dissolves fat and other dirt without using solvents. The new consistency provides this effect. The product is water-based so it does not harm the area around the cleansed surface. This also means less preparation before cleaning. Working temperature should be at least +5 Celsius. If surface has a primary paint coating, be careful not to remove that. First test product on a small area.
Usage: For thick graffiti, spray remover straight onto the paint and let work for at least half an hour or longer. For smaller problem areas made with latex paint, dilute remover in water 1:1 and let work for at least half an hour. Rinse the surface carefully with water, for example with power wash or other machine. Shake well.
Safety data sheets: download PDF
Volume: 500ml
EAN: 6416977715405