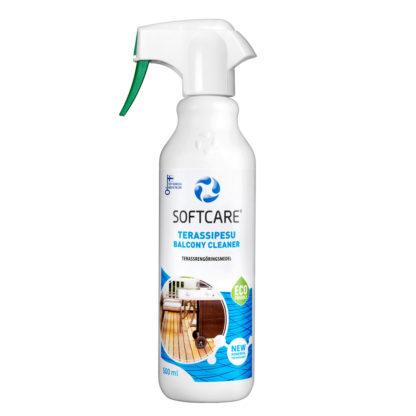 Softcare Balcony Cleaner
EFFICIENT CLEANER FOR VARIOUS BALCONY SURFACES
Softcare Balcony Cleaner is a concentrated cleaner designed to clean dirty surfaces. Use the cleaner on garden, fence, roof and stone constructions. Also suitable for indoor use. The product has been designed using a new Softcare technology, and it is efficient and environmentally friendly to use. The new Softcare technology is based on a unique invention that dissolves fat and other dirt without using solvents. The new consistency provides this effect. The cleaner is water-based and does not harm surfaces.
Usage: In normal wash, use cleaner directly on the dirty surface. Apply cleaner and let 5-10 minutes. Rinse off cleaner, use brush or sponge with tough dirt. Shake well.
Volume: 500ml
EAN: 6416977715382