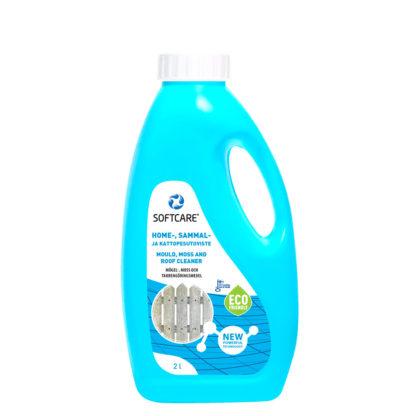 Mould, moss and roof cleaner 2 L
Softcare Mould and moss cleaner is a concentrated cleaner designed to clean moldy and mossy surfaces. Use the cleaner on garden, fence, roof and stone constructions. Also suitable for indoor use. The product has been designed using a new Softcare technology, and it is safe, efficient and environmentally friendly to use. The product does not harm the surfaces. The package is made from aerosol-free, recyclable plastic which can be recycled or burnt.
Usage: In normal wash, dilute cleaner with water 1:10 and with power wash to a 2-3% solution. Apply cleaner and let work 10-15 minutes. Rinse off cleaner with brush or sponge, if necessary. For tough mold and moss, dilute cleaner 1:5.
EAN: 6416977715306