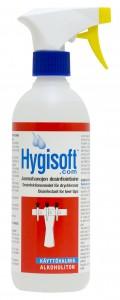 Hygisoft Disinfectant for beer taps
Ready to use – alcohol free
Effective disinfectant for surfaces and equipment. Kills bacteria, viruses, fungi and moulds. Suitable for all washable surfaces.
Instructions to use: Spray on the surface and let work. Do not wash away. No waiting time is required.
Safety: Avoid contact with eyes. In case of contact with eyes, thoroughly rinse eyes with water. Avoid inhaling or breathing the spray. The product is a colourless and odorless clear liquid. The product is biocide. Use biocide safely. Always read the label and product information before use.