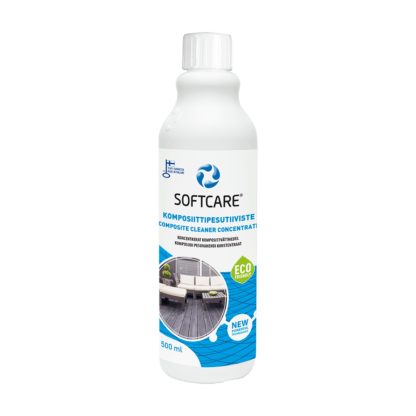 Softcare Composite Deck Cleaner
SPECIAL DETERGENT FOR COMPOSITE DECK AND PLASTIC SURFACES
The Softcare Composite deck cleaner is an entirely new kind of environmentally friendly special cleaner for composite deck and other plastic surfaces indoors and outdoors. Extremely efficient for removing any kind of dirt.
Instructions: Blend the concentrate with clean water at a ratio of 1:30. If you are cleaning difficult grease stains, use a ratio of 1:15. Spray, or otherwise spread, onto the surface to be cleaned. Leave for a few minutes and rinse well. Can also be used as a 3–5% solution with a pressure washer. Leave for a few minutes and rinse. Use the Composite deck protection to protect the cleaned surfaces. Store in the original container, protect from freezing.
Contains: 15 – 30 % non-ionic surfactants, < 5 % anionic surfactants , preservative (methylisothiazolinone).
Safety data sheets: download PDF (in Finnish)
Volume: 500ml
EAN: 6416977715870